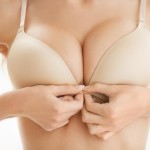 Breast Enhancement New Jersey
Breast Enhancement achieves larger, fuller breasts for women who are dissatisfied with their breast appearance. Many women wish they had fuller breasts and feel self-conscious about their small breast size. Breast Enhancement is achieved through the use of breast implants that may be filled with saline solution or silicone gel…the preference is a personal one. There are a number of customizable features to a breast enhancement procedure from implant size to implant type, implant placement to incision placement, but the most important decision you may is deciding who will perform the procedure.
If you are interested in learning more about the Breast Enhancement procedure and recovery process, and to find out if you may be a good candidate for a Breast Enhancement, contact our office to schedule your consultation with Dr. Mesa today. During your consultation Dr. Mesa will examine you, ask you about your medical history, your goals and your concerns. View our online before and after photo gallery to see the real results our patients have enjoyed and to get a general idea of the kind of results possible through breast enhancement.