Scars are a side effect of surgical procedures, injuries, and severe acne. Thankfully, modern medical advances have provided an effective solution to reduce the appearance of both new and older scars through the application of BIOCORNEUM. This revolutionary, medical-grade silicone gel helps heal scars to reduce their visibility significantly. This product is also effective as a treatment to shrink and lighten older, existing scars.
How does BIOCORNEUM work for your skin?
BIOCORNEUM is the only topical silicone gel that contains the FDA-approved Silishied® patented crosslinking medical-grade silicone, along with SPF 30. It is both transparent and comfortable, with most patients reporting that it feels like a second skin. It works by helping your scarred skin retain moisture and heal properly and smoothing out and producing more natural skin cells, while at the same time avoiding the sun's darkening effect by blocking harmful UV rays. It is applied once in the morning and once at night for 60 to 90 days, achieving noticeable improvements gradually throughout treatment.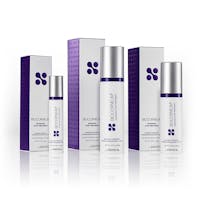 The benefits of BIOCORNEUM
BIOCORNEUM has become one of the most popular topical skin treatments for good reason. The benefits of this highly effective treatment include:
No further surgery required
Fully non-invasive
Silky-smooth gel is easy to apply and dries quickly
Once dried, BIOCORNEUM becomes a flexible, breathable protective shield that feels like a second skin
Ideal for both large and small scars
Provides full flexibility for scars on joints, irregular surfaces, and larger scarred areas
Once dry, you can add makeup, additional sun protection, or virtually any other topical product
Is BIOCORNEUM right for me?
BIOCORNEUM is ideal for men, women, and children over the age of six months who have visible scarring. Ideal treatment begins during the first stages of healing, which allows for quicker treatment times and enhanced results. BIOCORNEUM is also suitable for those who have older scars that trouble them, both in terms of visibility and flexibility. This medical-grade product is available through authorized physicians only, as it must come with a doctor-recommended treatment plan to ensure full safety and efficacy.
BIOCORNEUM with hydrocortisone acetate for itch relief
One of the most unpleasant side effects of scars as they heal is the incessant itchy feeling, which most people just "grit and bear" — but not anymore. BIOCORNEUM is now available with 1% hydrocortisone acetate, giving you all the benefits of BIOCORNEUM with the addition of effective itch relief.
BIOCORNEUM in NYC, New Jersey,
and Miami from Dr. Mesa
Dr. Mesa has dedicated his career to helping his patients look and feel their best at all times. He discovered BIOCORNEUM and was so impressed by the results that he became an authorized provider and now carries it for the benefit of his patients. Dr. Mesa recommends it to both surgical patients and those who have trauma scars, acne scars, or burns. His patients are very impressed with the results they achieve with this groundbreaking product. As a Harvard-trained, board-certified plastic surgeon who has completed three fellowships, Dr. Mesa has garnered a reputation as one of the foremost plastic surgeons in the region — and you can be confident that his recommendations will achieve the results you're looking for.