One of the common signs of aging in men is the appearance of sunken or hollow areas of the face. This aging look develops because of a gradual reduction in natural collagen production. Facial fat transfer is an effective procedure for men who want to restore facial volume. It has the ability to provide a more youthful, vigorous, and vital appearance. Dr. Mesa will extract fat from somewhere it is not wanted (such as the abdomen) and then use those healthy fat cells to restore lost facial volume in the face, filling in sunken, gaunt, or hollowed areas.
Dr. Mesa
A premiere cosmetic surgeon for men
The increase in the popularity of cosmetic surgery for men has required a dramatic shift in the training and level of expertise surgeons must deliver. The male face has many unique qualities — and maintaining a masculine, healthy appearance requires particular skills and artistry, which many surgeons do not have. Dr. Mesa trained at Harvard University and is a board-certified facial plastic surgeon who has undergone three extensive fellowships in premier facilities to advance his surgical skills.
Dr. Mesa has an uncommon level of artistry for enhancing and improving the male face, and he has the experience needed to do it correctly. He travels between his three offices in NYC, New Jersey, and Miami to cater to male patients who want to look their best. All treatments are performed in a discreet, professional, and comfortable environment.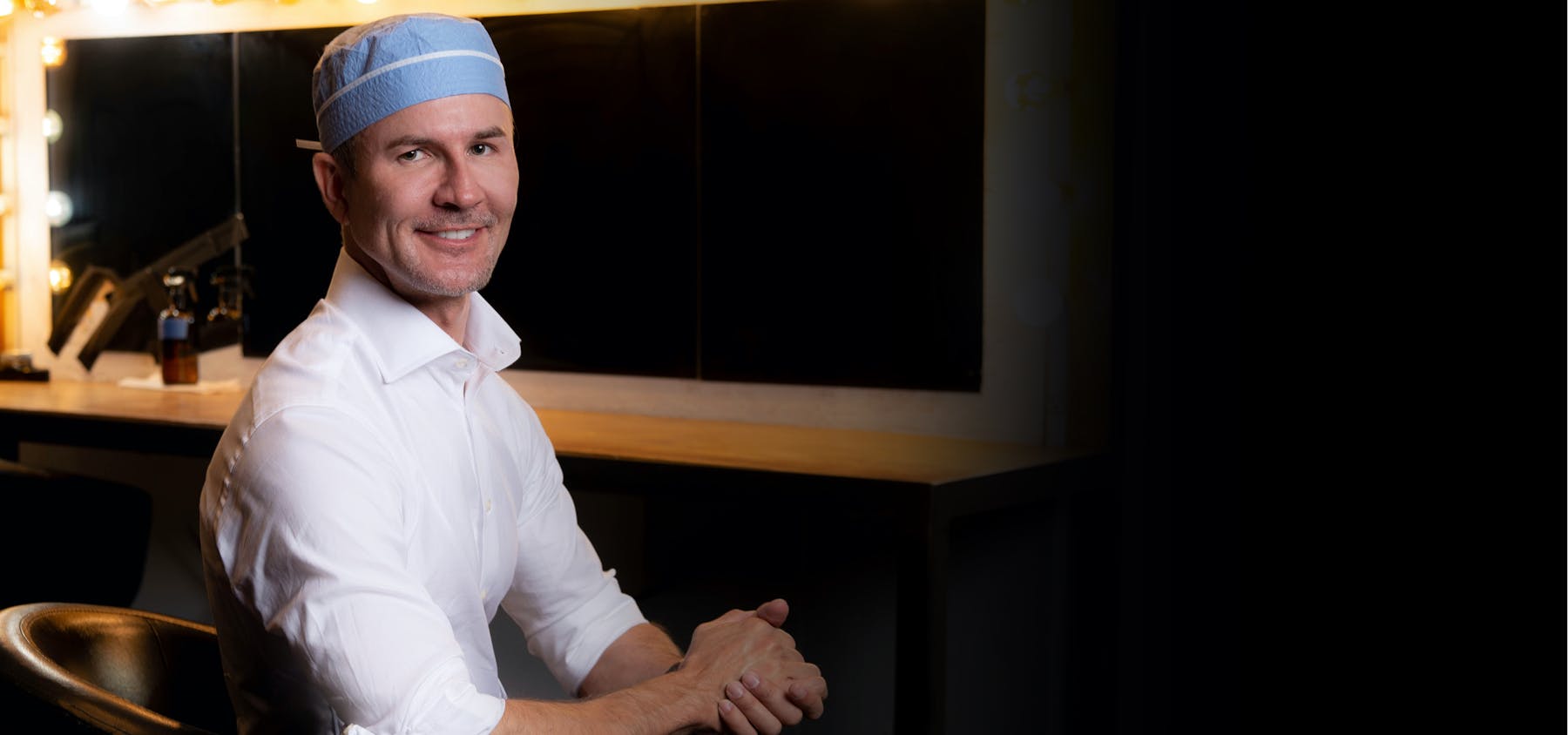 The benefits of facial fat transfer for men
Facial fat transfer for men is a unique procedure that offers many benefits above and beyond other, more temporary treatments to restore lost facial volume. Some of the top benefits include:
Restored volume in your cheeks, temples, and other areas of your face
Reduced fine lines and wrinkles
Reduced the appearance of scars
Restored vitality to the features
No risk of an allergic reaction
Added benefit of reducing fat in the donor area
Long-lasting results
How does facial fat transfer for men work?
Facial fat transfer begins with your initial consultation, where Dr. Mesa will help determine the exact changes you desire, as well as where the donor site for fat harvesting will be. (Usually it's the abdomen or thighs.) On the day of your actual procedure, the treatment will begin with high-definition liposuction from the donor site. The fat will be removed with precision. Once removed, the fat cells are processed and purified, after which they are meticulously injected into the needed areas of the face with a small, hollow needle.
Recovery and results
You will return home the same day of your procedure, and you can expect to return to your usual activities within seven to ten days. You will experience some swelling and bruising at both the donor site and on your face, but these will gradually diminish each day. As the swelling goes down, your final results will emerge and a new, more youthful appearance will be revealed.
Am I a candidate for facial fat transfer?
To be a candidate for facial fat transfer for men, you must:
Be in good general health
Not smoke for at least 14 days before the procedure
Be off any medication or supplements that can increase bleeding or increase the risk of complications
Have enough excess body fat to provide a donor site
Most men meet these qualifications. During your consultation, Dr. Mesa will help determine if this procedure is your best option. We also offer other, less invasive options to restore volume, such as dermal fillers for men. Together you and Dr. Mesa will decide what your ideal treatment will be to achieve optimal results.