Your face is continuously subjected to harsh elements such as the sun, wind, and dirty air. As the years pass, your facial skin will eventually lose its resilient, flexible quality. This causes wrinkles, lines, and jowls to appear, marking the physical appearance of age. A facelift is the definitive facial rejuvenation surgery, and when performed by a surgical artist, this procedure delivers a result that looks exceptionally natural — not pulled or "worked on."
Should I
get a facelift?
You may be dismayed to see your face looking older, with sagging skin, lost volume at your temples and cheeks, deep smile lines, and jowls that leave you looking old and tired. If you feel that your facial appearance does not match your energy, vitality, and youthful approach to life, a facelift may be the right procedure for you.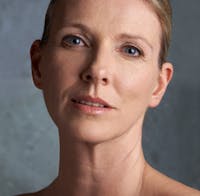 What does a facelift entail?
A facelift corrects a variety of age-related concerns and creates a refreshed, refined, vibrant look: one that looks more like your younger self. The surgery is always customized to your specific concerns and goals, and Dr. Mesa may advise one of the following procedures:
Mini lift
This procedure is appropriate for those with less extreme facial aging. If you're developing jowls and have lost youthful definition at the jawline, you may be a good candidate for this approach. The incisions are placed at the front and, in some cases, behind the ear. Once healed, the scars are virtually invisible. This approach is best for those who do not need to tighten the underlying facial muscles.
Full facelift
This more extensive procedure removes jowls, lax skin at neck and jawline, deep wrinkles, and creases. It subtly lifts the corners of the mouth. Deep laugh lines are smoothed away, and the underlying muscles tightened to achieve a very natural enhancement. The incisions are placed behind and in front of the ears and at the temples, with minor variations.
Lower facelift
A lower facelift focuses the surgical corrections on the lower face, jawline, and upper neck. This is often the recommended procedure for younger patients who retain more flexible skin and have not lost much facial volume at the cheeks.
Neck lift
If the signs of aging have impacted the appearance of your neck, combining a facelift with a neck lift may be advised. Removing excess neck fat and skin to smooth away creases or removing vertical neck bands creates a youthful, sculpted, jawline and a graceful neck contour.
Facial rejuvenation with FaceTite™
Dr. Mesa provides minimally invasive facial rejuvenation treatments with FaceTite™ in NYC. The radiofrequency energy emitted by the system lifts and tones excess skin without large incisions or big scars, triggering a natural lifting and firming effect — with far less downtime.
Dr. Mesa also performs facelifts under local anesthesia without general anesthesia or twilight anesthesia (IV sedation), which can significantly speed recovery time. If you would like to undergo the procedure with either intravenous sedation or general anesthesia, it will be administered by a board-certified anesthesiologist.
What is the recovery time?
The recovery time after a facelift will vary from person to person, but in general you should expect two to three weeks before you're ready to venture out to show off your new look. A mini facelift may require only ten to fifteen days, as the incisions and surgical corrections heal more quickly.
You will need to sleep on your back while healing, and follow all aftercare instructions. Dr. Mesa's patients are so thrilled with the results that you can expect that the wait will be well worth it. Your results should last from ten to fifteen years.
Why choose
Dr. Mesa
for a facelift in NYC?
Dr. John Mesa is a triple fellowship-trained and board-certified cosmetic plastic surgeon with certification from the American Board of Plastic Surgery (ABPS). His skills and techniques have led to a reputation for excellence and countless positive reviews. Beyond his outstanding skills and techniques, Dr. Mesa focuses on establishing a strong patient-doctor bond and treats all of his patients with compassion and kindness. Your journey will be under the care of one of the most talented, caring plastic surgeons in the country, and a leader in the field of cosmetic facial surgery.