The Neocutis line of skincare products supports natural healing by stimulating the regenerative processes of the skin. The building blocks of firm, healthy skin include collagen, elastin, and hyaluronic acid. When produced in higher quantities, the skin becomes firmer and more supple. The Neocutis line stimulates natural skin regeneration.
Skin rejuvenation
with Neocutis
Dr. Mesa has seen the results of Neocutis on his patients and offers the line at his New York, New Jersey, and Miami offices, as they deliver as promised. Whether applied to speed healing after surgery or as part of your custom anti-aging skincare regimen, you will see visible results in your skin quality.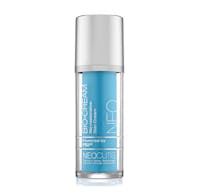 How does Neocutis work?
Peptides are specialized proteins that support the natural building blocks of skin. Peptides and growth factors trigger natural skin renewal for anti-aging and faster healing after surgery
Peptides
Neocutis is a science-based product that boosts three types of collagen with a proprietary set of peptides:
Collagen I: Coarser collagen fibers that lend elasticity to the skin structure, allowing it to stretch.
Collagen II: Finer collagen fibers that strengthen skin quality.
Collagen III: The collagen fibers that connect the upper layers of skin to the lower layers.
The product deeply moisturizes your skin, smoothing fine lines and wrinkles, and supports elasticity.
Growth factors
Human growth factors work to support your body's natural healing and rejuvenating mechanisms, and when applied regularly, can help keep your skin looking healthy, firm, and glowing. The growth factors and specialized, skin-nourishing proteins support the development of collagen and hyaluronic acid production within the skin layers.
Neocutis after facial surgery to
support faster healing
After surgery, the skin must knit together smoothly. Neocutis skincare works to reduce inflammation and pain, shorten recovery time, and trigger skin rejuvenation. You have invested in facial plastic surgery, and you want your refreshed appearance to be long-lasting. The addition of Neocutis to your recovery regimen soothes, calms, and deeply hydrates your skin, and reduces post-procedure discomfort.