Applying your makeup each day is a time-consuming and expensive process. Imagine "using" makeup that is long-lasting and never having to worry about constantly applying, cleansing, and re-applying. Permanent makeup is an aesthetic procedure to create the look of cosmetics with a customized, tattoo-like process. Dr. Mesa's permanent makeup expert artistically creates long-lasting eyeliner, lip tint, or fuller brows that look perfect from the moment you wake up to the moment you fall asleep.
What is permanent makeup?
Dr. Mesa applies permanent makeup using a pen-like applicator that inserts colored pigment deep into the dermal layers of your skin. It is a quick, easy, outpatient procedure that has little to no recovery time, and achieves results that can last for many years. Permanent makeup can enhance your look by creating long-lasting:
Eyeliner
Lip tint
Eyebrow color
Thicker, perfectly arched brows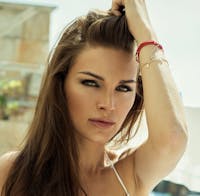 Why choose Dr. Mesa's permanent makeup services?
Permanent makeup is a procedure that lasts, so your choice of service provider and clinic is critical.
Dr. Mesa's permanent makeup expert has an intimate knowledge of the aesthetics of the human face. This allows to deliver results that are nothing short of extraordinary.
Am I a candidate for permanent makeup?
If you're tired of spending a lot of time each day applying makeup and you maintain a reasonably consistent style and color, permanent makeup might be the ideal solution for you. The best candidates seek to enhance the drama of the eyes or create a deeper lip color. As with any procedure, an in-person consultation is required to ensure it is right for you. You may not be a candidate if you are pregnant, breastfeeding, or take certain medications. We focus on patient safety and wellness in every procedure.
Permanent makeup:
Your results
Your results will appear immediately following the procedure, and will generally last between one and five years, depending on your skin type, the colors you select, and what areas of the face you want to be treated. Eyeliner lasts typically between one and three years, while lip coloring is known to last three to five years. As the pigment fades, you can come back in and get a touch-up, allowing you to maintain your permanent makeup look for as long as you wish. Our patients love the freedom this procedure brings.
Benefits of permanent makeup
Beautiful, long-lasting results
Improved confidence and comfort
Makeup that looks perfect all the time (even while swimming, exercising, or sweating)
Freedom to wake up and be ready in minutes
Restores color and appearance to skin and brows that have lost color or hair due to age
Customized makeup that enhances your features in a very subtle, natural way