Lip augmentation with fillers is a cosmetic treatment to create fuller, plumper lips. Injectable dermal fillers are the most commonly used method to enhance thinner lips. Certain hyaluronic acid fillers are designed specifically for lips to provide a more attractive shape and volume, or to smooth vertical lip lines. Hyaluronic acid is a moisture-attracting substance found naturally in the body.
Who is a candidate for lip augmentation with fillers in NYC, NJ, or Miami?
You may be a good candidate for lip augmentation with fillers if you want fuller, more shapely lips. Whether you want to transform thin lips into a full pout or want a subtle change, Dr. Mesa can recommend a hyaluronic acid filler to suit your needs.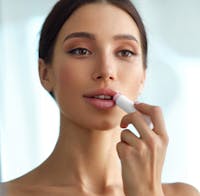 What should I expect with filler injections for lip augmentation?
Lip augmentation with fillers is a quick, minimally invasive procedure performed in our private office. Many of the next-generation fillers contain lidocaine, a local anesthetic, to make your treatment more comfortable. Dr. Mesa injects the appropriate filler meticulously and precisely to create the desired effect.
Is there any downtime after lip augmentation with fillers?
There is no downtime with lip fillers. You may have minor swelling, bruising, and tenderness after treatment. Applying ice to the treatment area can help ease these symptoms. You can resume your usual activities once the procedure is complete.
Lip augmentation FAQ
What are some of my options for dermal fillers to augment the lips?
Dr. Mesa can recommend a lip filler to suit your individual needs. For example, some options include:
Juvéderm® Ultra XC: This filler is excellent for creating luscious, plump lips.
Juvéderm Volbella XC: Volbella can be used to define your lips and smooth wrinkles around the mouth.
Juvéderm Volure XC: Vollure can be used to plump and define the lips.
Versa®: This filler can augment overall lip volume.
RHA®: Soft, pliable, and natural, RHA2 and RHA3 are exceptionally natural in feel and softness.
What are the benefits of lip augmentation with fillers?
Hyaluronic acid fillers are a popular, affordable lip enhancement option that can achieve soft, natural-looking results. Benefits of lip augmentation with fillers include:
Added structure, shape, and volume for lips
Quick treatment that takes 15 to 20 minutes
Amount of filler can be adjusted for customized treatment
Little or no downtime is required
Allergic reaction is very unlikely
Results are visible immediately after treatment
Hyaluronic acid fillers attract moisture, giving the lips a softer look and feel
Dr. Mesa for
lip augmentation with fillers
Dr. Mesa is a board-certified plastic surgeon with extensive training who performs cosmetic procedures of the face, neck, breast, and body. Patients trust him to achieve exceptional results. He only recommends treatments that will produce the look you envision, and he is meticulous in his injection techniques.