The Obagi line of skin care products is known to be among the best in the world. The ELASTIderm line products are ideal for mature skin. The line includes the following:
ELASTIderm Eye Serum: This eye serum strengthens, firms, and protects the delicate, fragile skin around the eyes, one of the first places the signs of aging appear. This product contains a bi-mineral complex to trigger natural collagen and elastin production, smoothing fine lines and fading dark circles.
ELASTIderm Eye Cream: This eye cream formula smooths fine lines while tightening sagging under-eye skin when applied regularly. Ideal for normal or dry skin, it intensely hydrates the delicate skin around the eyes. It is clinically proven to achieve visible results in about two weeks and has the added advantage of protecting your skin against damage by free radicals.
ELASTIderm Facial Serum: This high-performance anti-aging serum stimulates natural skin elasticity. The formula contains a patented bi-mineral complex that triggers elastin production. It is clinically proven to produce visible improvements in skin quality after eight weeks of application.
Results in clinical trials: ELASTIderm
The Obagi ELASTIderm line of products has an impressive record of satisfaction in clinical trials. After eight weeks of application, the study participants reported results as follows:
One hundred percent of participants felt the facial skin appeared firmer.
Ninety-seven percent said the facial skin had more resilience and elasticity.
Ninety-seven percent noticed a reduction in crepey skin.
Ninety-seven percent reported the skin had a bounce-back quality.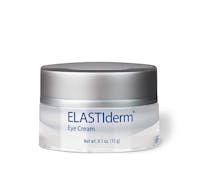 Dr. Mesa: A master of skin rejuvenation
When under the care of Dr. Mesa, you can be confident that his recommendations on skincare, treatments, or surgery reflect your skin's actual needs. He never recommends a treatment or product that you do not need. For many patients, the ELASTIderm serums or cream may be recommended, as he has seen the real-world results of these products.