There's no question that a double chin affects how you look. Even if you're slim and at a healthy weight, excess fat under your chin will make you look heavier and older. Your neck may also be affected, with submental fat creating an unattractive look with folds and creases. Fortunately, modern liposuction techniques make it possible to remove under-chin fat for the long term. Chin liposuction is performed with a delicate liposuction procedure, through tiny incisions, with the added benefit of a very short downtime.
Double chin removal with lipo: Takes years off your look in just minutes
If your facial appearance is negatively impacted by excess under-chin fat, you should meet with Dr. Mesa at his NYC, New Jersey, or Miami office to discuss chin liposuction. The procedure takes only minutes to complete, and can be life-changing. Imagine looking in the mirror and seeing a refined, defined jawline — with the fat gone forever.
Every person is unique, and Dr. Mesa will take the time to evaluate your aesthetic problems and advise you of the procedure that will produce the most attractive outcome. In many cases, chin and upper neck liposuction are all that's needed to give you a more appealing profile and a higher level of confidence.
Am I a candidate
for chin liposuction?
If you're living with any of the following aesthetic concerns and still maintain sufficient skin elasticity, you may be a good candidate for this minor procedure:
Double chin
Fatty upper neck
A lack of pleasing definition at the jawline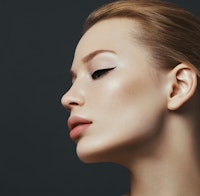 What is the
procedure like?
This procedure must be performed with meticulous care. You will not experience pain, as the area will be numbed with local anesthesia. There is no need for general anesthesia or a long recovery. Dr. Mesa uses a very small cannula (hollow tube) that is inserted into the fatty area, and he will gently suction away the excess fat. After removing the excess fat, the chin area will be protected with a compression bandage to help your skin shrink back to cover the newly refined chin area. Chin liposuction is an outpatient procedure, and you are free to return home once it is completed.
What is the
recovery time?
You can expect some bruising and swelling which typically peaks at three days and then gradually fades away over the weeks ahead. You will see Dr. Mesa for a post-procedure visit the seven days following the procedure. He will place a custom face and neck garment that you will need to wear at all times for about one week. The stitches at the tiny incision sites self-dissolve in about five to seven days following the fat removal process. Avoid any sun exposure, and wear sunscreen at 50 SPF or more during healing. You should plan for one to two weeks off work or social activities for the swelling to diminish.
Why undergo
chin liposuction?
You may have inherited the tendency to develop under-chin fat, or have developed an excess of fat as the years passed. It may have appeared due to weight gain, but in many cases, submental fat is purely genetic — and no matter how much you diet or workout, it won't disappear. If this sounds like you, it may be time to consider chin liposuction and finally be free of an unsightly double chin.
Why choose
Dr. Mesa?
If you are considering removing under-chin fat, you want to be confident that the procedure is being performed by a true professional. Dr. Mesa is a board-certified, Harvard-educated plastic surgeon who has hundreds of excellent reviews. His approach is significantly different than many surgeons, as he and his hand-selected support staff focus on building a strong bond and are each dedicated to achieving the aesthetic results that you want. He has offices in NYC, New Jersey, and Miami to serve you.