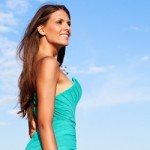 Mastopexy New Jersey
Mastopexy, also known as a breast lift, is a procedure that has helped many women achieve more youthful and perky breasts. Many women find their breasts sag and droop more quickly or prominently after a significant weight loss or pregnancy and nursing. The breast lift procedure lifts the breasts, but isn't designed to alter the size of the breasts, so women who are looking for both a breast enhancement and lift may combine the breast augmentation with a breast lift procedure.
View our online before and after photo gallery to see real results our patients have enjoyed with the mastopexy procedure. If you are interested in learning more about the mastopexy procedure and recovery process, and to find out if you are a good candidate for this procedure, contact our office to schedule your consultation with Dr. Mesa today. Ideal candidates are in good health, non-smokers, and have realistic expectations for the procedure and potential outcome.